Hi, I'm Lawrence (Larry) Tate and welcome to my site.
For years I have been thinking about creating a forum where I could share things that I feel are important for people to know but not get lost in another stack of mail or in another email inbox.  When I explored the various means to do this I decided a website was the best way to accomplish this.  This type of technology is also a great place to share more about my business life,  and from time to time provide a little glimpse into my life outside of work.
Most people who find this site will already know a bit about me.  If you don't though – here's some background on myself.
I was born in St Paul, MN.
I grew up in a suburb of St Paul called Cottage Grove.
Growing up I played a variety of sports, worked at a handful of jobs and gravitated more to Math and the Sciences in school.
After graduating from Park High School in 1995 I went to Ripon College in Ripon, WI.
In 1999 I graduated with a degree in Biology and Math – I learned to really love doing research at Ripon and carry that passion with me to this day.
I moved to Tucson, AZ right after graduation and started building my Financial Advisory business there.
After 2 years of working 80+ hour weeks I decided to move my practice back to Minnesota.
After many years of making the commute each day from the suburbs to Minneapolis, I opened an office in Rogers, MN in 2008 with 2 other advisors.  In May of 2021 we purchased a building just up the road in Elk River.  That is the current home of Midwest Wealth Advisors.
I live in Blaine, MN with my wife, Becki, who is an American Sign Language Professor at Bethel University, and her 4 wonderful children (Kobe, Jada, Bianca, and Tiana), and my  hilarious English Bulldog named Winston!  Here are some pictures from our wedding on 1-23-21.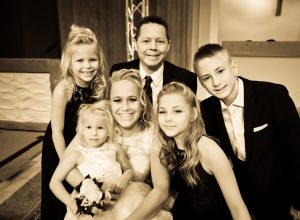 So that's my life so far in a nutshell.
Truth be told, I really like to help people and though a website can be a big time commitment I really wanted to share the things I feel are valuable and important with people in an easily accessible and relaxed atmosphere.  Some people have a gift for art and music…that is not me! : )  I do feel blessed to have the gifts I do in math, investments, public speaking and research and I am committed to helping people to the best of my ability.  It is my hope that through this site, and other communications, I can share wisdom, information, and resources to those who want to improve their financial situations and go to the next financial level.  Through that advice and wisdom it is my hope you will have a sense of security and possibly more comfort and be able to relax and enjoy life more by not having to worry about your money.  That may sound a bit corny but it is the truth.
Where I have been fortunate enough to speak:
Premier Resource Group – The Mirage (Las Vegas, NV)
Life Mastery Sales Forum Annual Conference – Caesars Palace (Las Vegas, NV)
North Star Resource Group Summer Summit Meetings – St Paul, MN
Cystic Fibrosis Foundation Annual Gala – Minneapolis, MN
NAIFA – St Paul, MN
Anesthesia Schools – All Across the Country
Cystic Fibrosis Foundation Bid for a Cure Gala & Casino Night- Pasadena, CA
Business and Professional Women's Group, The Three Rivers Chapter – Champlin, MN
Cystic Fibrosis Foundation Wild Game Dinner – Oakdale, MN
NAIFA – Minneapolis, MN
Where I have been featured:
2015, 2016, 2017, 2018, 2019, 2020 & 2021 FIVE STAR Wealth Manager – Twin Cities Business Magazine, January 2015, 2016, 2017, 2018, 2019, 2020 & 2021
Minneapolis Star Tribune (twice)
NAIFA Advisor Today Magazine
The Five Star Wealth Manager award, administered by Crescendo Business Services, LLC (dba Five Star Professional), is based on 10 objective criteria: 1. Credentialed as an investment advisory representative (IAR) or a registered investment advisor; 2. Actively employed as a credentialed professional in the financial services industry for a minimum of five years; 3. Favorable regulatory and customer dispute history review*; 4. Fulfilled their firm review based on internal firm standards; 5. Accepting new clients; 6. One-year client retention rate; 7. Five-year client retention rate; 8. Non-institutionalized discretionary and/or non-discretionary client assets administered; 9. Number of client households served; 10. Educational and professional designations. Wealth managers do not pay a fee to be considered or awarded. Once awarded, wealth managers may opt to purchase additional profile ad space or related award promotional products. The award methodology does not evaluate the quality of services provided. The award is not indicative of the award winner's future performance. 2,083 Twin Cities wealth managers were considered for the award; 854 (41 percent of candidates) were named Five Star Wealth Managers.

*To qualify as having a favorable regulatory and customer dispute history for this award, the person cannot have (1) been subject to a regulatory action that resulted in a license being suspended or revoked, or payment of a fine, (2) had more than a total of three customer disputes filed against them (settled or pending) with any regulatory authority or Five Star Professional's consumer dispute process, (3) individually contributed to a financial settlement of a customer dispute filed with a regulatory authority, (4) filed for bankruptcy, or (5) been convicted of a felony.